I'll share information about elliptical machine from ProForm. As far as workout machines go these days, many prefer to use elliptical trainers as opposed to free weights and treadmills. While there is no shortage of choices in elliptical machines on the market, it can be a daunting task for consumers to pick just one. ProForm elliptical is a brand that has been around for a number of years, and continues to offer a wide range of workout machines to gyms as well as individual consumers. Here is a summary of ProForm elliptical reviews.
Why ProForm Elliptical is a Best Choice?
ProForm is a company that sells fitness machines and is under the umbrella of the icon health and fitness company. Over the years, it has continued developing new ways to design and manufacture better workout equipment, specifically heavy duty elliptical machines. A company with this much experience in making sophisticated exercise equipment can provide a certain level of guarantee that whichever product consumers choose to purchase, quality and functionality will be at its best.
ProForm Elliptical Durability
Regardless of the unit you end up buying, you can be sure that it will last many years. The materials used to build each machine are carefully chosen, reinforced, and polish in order to ensure longevity. The cost of these machines is highly justifiable. (http://www.ncbi.nlm.nih.gov/pubmed/15470311)
The most important thing to know about the ProForm elliptical product line is that is provides all kinds of machines for different people. The features are carefully installed in order to provide excellent workouts each time. While you will need to spend good money for any one of these machines, you do get what you pay for and then some.
Buying one of these is certainly a good investment for your health and fitness. Whether you are a serious athlete or just someone who wants to stay fit as much as possible, an elliptical machine is a great choice indeed.
An elliptical trainer would make for excellent home fitness equipment so you never have to over pay for a gym membership and still get to achieve the type of body you want.
The Best ProForm Elliptical Reviews
Front Drive Series
These trainers are compact and streamlined, but equipped with all the essential features as well as range of motion.
1: Proform Endurance 720 E Elliptical Review
Design
The 720 E is the middle of the line regarding features for the ProForm front drive series. It can support users up to 325 lbs in weight and has stable oversized and padded foot rests for a secure and comfortable workout. It also features the standard dual-arm system so you can either focus on lower or include the entire body. Smooth gliding technology along with versatile incline and resistance settings allow a range of up to 20 degrees incline and 20 different resistance settings. A built in fan at the bottom of the sleek and easy to use control panel also adds to the ease of use and comfort.
Workout Programs
This model has 24 different workout programs that were designed by expert personal trainers to help you select a specific style of workout and to focus on different areas. It is also the lowest costing model that includes integration with the iFit system.
Monitoring
Like most ProForm elliptical trainers the 720 E feathers EKG technology in the handles to help you monitor and track your heart rate. This is beneficial for any cardio training program where you are trying to meet specific heart rates per session.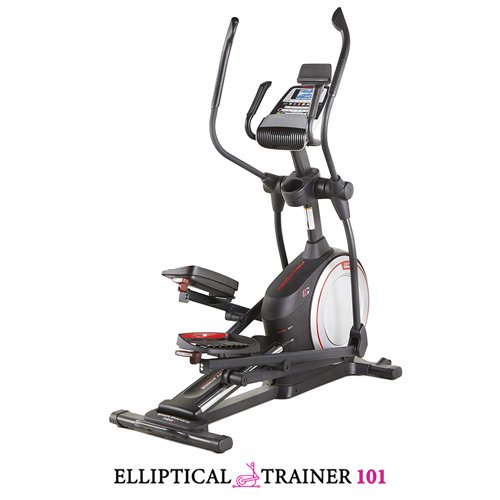 Pros
Heavy duty, stable, and able to be securely leveled, this elliptical has a lot of nice features that make it a good choice for the serious user.
Touches like the built in fan and iPod port make it even easier to use, making workouts a lot easier to do.
Cons
The biggest aspect that could be considered a negative for this model is the pricing.
For all its bells and whistles it lacks justification for being one the most expensive models in their line.
---
2: ProForm Endurance 920 E Elliptical Review
Design
When it comes to setting fitness goals for women and men of all ages, being able to easily keep up with them it essential, the ProForm 920 E has built in iFit compatibility and a wide range of easy to access workout settings that can be easily adjusted on the touchscreen display or the handle-mounted buttons. A tablet holder and iPod compatibility allow for a full range of workout assistance, from use of fitness apps to music and entertainment to help keep you focused and engaged while you workout. A heavy steel frame with secure stabilization, easy-move wheels for ease of placement, magnetic resistance system, and secure pedals all add up to a luxurious workout experience. The built in fan also helps keep you going longer.
Workout Programs
It comes with 32 pre-programmed workout apps that were designed by personal trainers to help you work towards a variety of goals. Aside from using the those or the iFit system, it can be adjusted to a perfectly customized workout between 0 to 20 degrees of incline, 24 levels of resistance and a 20"-22" adjustable stride system.
Monitoring
Like most ProForm elliptical machines the 920 E has built in EKG monitors in the convenient upper body support arms. It also includes a wireless monitoring system that can be worn around the chest and sends information to the control panel in real time display.
Pros
Some of its biggest features, regarding how versatile a workout it can provide, along with the smaller things such as water bottle holder, Cool air fan system, comfort pedals and such make it one of the most comfortable elliptical machines on the market.
Cons
The steel construction that allows it to support users of up to 325 lbs can make the model a bit heavy to move around, however the manufacturer does counter this aspect by providing easy move wheels on one end.
---
Rear Drive Series
Full body fitness is the ultimate goal with these machines. This product line is dubbed as the Smart Strider, which is rather apt considering the features you can expect from the trainers in this category.
1: Proform Smart Strider 495 CSE Elliptical Review
Design
One of, if not the, lightest models of elliptical machines by ProForm, the Smart Strider 495 is a compact rear drive machine. Its light frame can support up to 275lbs and it features dual handles for optional upper body workout involvement. Comfort grip pedals make it easy to have a secure session while the balanced design, magnetic resistance system and sturdy flywheel ensure stability. It has a port to connect your iPod to for added convenience.
Workout Programs
It comes with 18 levels of resistance to allow you a wide range of focus between resistance and calorie burning. There are also 18 different pre-programmed settings that were designed by personal trainers to help focus on specific areas.
Monitoring
Within each comfort grip handle is pulse monitoring technology that helps you keep track of your heart rate at all times during your workout.
Pros
Its biggest perk is that it has one the easiest to setup designs and convenient fold down properties for elliptical machines on the market today.
Cons
Its ultra light design limits its user's weight capacity, and the lack of extra features limits its appeal for some users.
---
2: ProForm Smart Strider 695 CSE Elliptical Review
Design
Arguably one of the best elliptical machines, the Smart Strider 695 is a happy median between features and pricing. It features a compact and easy to fold for storage design that involves a sturdy steel frame, which is also capable of supporting up to 300 lbs. It has adjustable and oversized pedals are padded for grip and comfort. Those along with the magnetic resistance system and heavy duty flywheel provide a smooth workout. The Coolaire fan mounted below the easy to read display helps make it a comfortable workout as well.
Workout Programs
Featuring iFit compatibility, 24 pre-programmed settings, up to 10 degrees of incline and 20 levels of resistance, the range of workout flexibility is endless.
Monitoring
For monitoring and cardio training there is an EKG grip pulse system in the handles.
Pros
Its variety of features, compact design and durability make it a popular choice for users wanting a bit more than the standard elliptical.
All around machine for various fitness needs.
Three different choices for various budgets.
Cons
It is hard to find any complaints regarding this model.
It covers all the basic needs for a good and engaging elliptical exercise bike.
Top of the line machine is quite expensive.
---
3: Proform Smart Strider 895 CSE Elliptical Review
Design
In keeping with the concept of making rear drive elliptical bikes that can store easily, the Smart Strider 895 does not disappoint. It has all the bells and whistles of their top of the line front drive models at a significantly lower pricing. A sturdy frame, magnetic resistance system, upper arm bars, and an impressive 325lb capacity make this the ideal elliptical for cross training workouts and serious users.
Workout Programs
It is iFit enabled as well as coming with 32 pre-programmed apps for total body inclusion. Between its included features and its uniquely adjustable 24 levels of resistance and 0 to 10 degrees of incline, the only thing that can target unique muscle groups better would be a ProForm hybrid trainer.
Monitoring
Like most ProForm models it also includes heart monitoring technology inside the handles, but as with only a few, it also includes the wireless strap monitor that can provide for flexibility in upper body involvement, while retaining the cardio tracking.
Pros
Its crisp design and abundance of features, not the least of which are the clear touch screen display and Coolaire workout fan, make it a hard to beat model.
Cons
The only downside that some feel this model has it that unlike front drive elliptical trainers.
It doesn't have as high an incline range.
---
Hybrid Trainer Series
For those who are looking for a machine that does double duty, this product line would do just fine. The Hybrid Trainer is a 2 in 1 machine that is both an exercise bike and an elliptical machine. This comes with a total of 14 different workouts that target various parts of the body, especially stubborn areas such as the buttocks and stomach. It is both an effective machine and a low impact device for those who are nursing injuries.
1: Proform Hybrid Trainer Review
Design
Designed to be flexible between recumbent and elliptical positions, it can allow you the flexibility to focus on more cardio or include the whole body in your workout. Despite its lithe appearance the sturdy ProForm hybrid trainer can support up to 350 lbs. The easy to store and switch design makes it convenient to use.
Workout Programs
It comes with 14 pre-programmed settings, 7 for elliptical and 7 for recumbent. It also includes a target pacer monitor that can help you keep up the speed or when to slow down to help get the most out of your workout.
Monitoring
It features simple in handle EGK monitoring to help you keep track of your heart rate and works with the target pacing system to ensure you are meeting your goals.
Pros
Affordable price.
It offers more versatility than either machine alone while being more affordable than owning separate machines to do the jobs.
Multi-functional machine that can help you lose weight and build muscles without needing two different machines.
Cons
It is a very basic system that offers a lot of flexibility in some areas without the bells and whistles some might get with a singular device.
Limited built-in routines.
Make the change and see the changes. Be happy with these reviews and always positive thinking.