Elliptical machines work on the same principle as treadmills, but head to any site discussing them, and you will find (if the site is honest) that elliptical machines are by far the more efficient of the two, thanks to the fact that the structure of the elliptical machine ensures that the natural elliptical motion of the feet when running is replicated exactly without the feet leaving the surface. However, look deeper at how this efficiency works, and you find yourself drowning in a sea of medical jargon. This doesn't mean, though, that you take anyone's word regarding the benefits without learning exactly what the machine does and how it helps you achieve that perfect physique. To make matters easier for you, we have carried out some research to provide you with a short guide to the major elliptical machine benefits in simple language.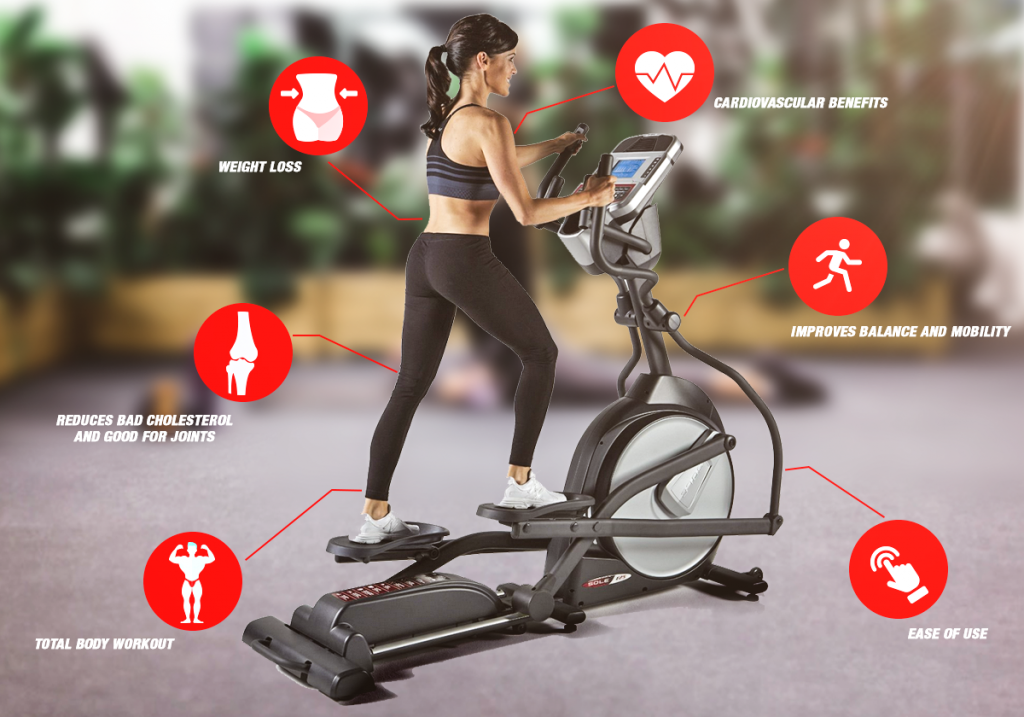 Maximizes Calorie Burn
For most amateur exercise enthusiasts the primary concern is to burn fat, and through it achieve their desired physique. To be honest, elliptical machines do not have a massive edge when it comes to burning calories when compared to treadmills. However, a major elliptical machine benefit is the ability to adjust stride length. Though not universally available, stride length customization is always a feature of the Best Elliptical Machines out there.

Now if the stride length is maximized, it has been found (by a research conducted by the University of Idaho, USA) that the number of calories burnt is significantly increased. However, unlike regular running, where longer strides tend to wear you out faster, the elliptical machine ensures that no additional fatigue is caused even when strides are lengthened significantly. This elliptical machine benefit has been proved by a study by the University of Missouri, which shows that lactic acid formation, oxygen utilization, heart rate and perceived level of exertion were lower when using an elliptical machine.

Reduces chances of strains and sprains
Running on hard ground or on a treadmill causes your feet to land hard on the ground again and again, thus putting great strain on your joints. On an elliptical trainer, however, your feet never leave the surface. This leads to what is perhaps the most commonly cited elliptical machine benefit – lower joint strain. This may not be the greatest of issues for those in the prime of their health, but for those with injuries and health issues, excessive joint strain (or risk of it through excessive impact on joints) can have serious repercussions. Indeed, this is one of the reasons why many fit people stop exercising on sustaining an injury or being diagnosed with some health issue. However, considering that the best elliptical machines have been found produce little no joint strain, we can say that even they can keep themselves healthy using elliptical machines.
Fixing weak muscles
Even if we are not ill or consider ourselves weak, the fact remains that many of the muscles of our body are weak compared to others, due to unequal exercise. If you go through the existing elliptical machine reviews, you will not find anywhere the claim that they exercise all the muscles of the body equally, because they do not. However, what they do is to exercise some muscles which are ignored by others.
Firstly, according to a study by the Dalhousie University in Canada indicates that the muscles of the hips and the backside are aided significantly by regular training on elliptical machines. These muscles, which are technically called gluteus maximus and vastus lateralis, tend to be extremely weak in many people, regardless of whether they carry out conventional exercise or not. However, the study found that among elliptical machine benefits was substantial usage of these muscles.

Secondly, it has been found by a research team at Willamette University that the quadriceps and hamstrings are significantly helped by elliptical machines. Of the two, quadriceps tend to be weaker and more neglected of the two, and coordination between them tend to be less than optimal. The study found that elliptical machine benefits include the improvement of coordination and training of quadriceps. Indeed, it was found that by reversing the direction of exercise, the amount of exercise given to quadriceps rose rapidly, something which was not possible in treadmills.
Upper Body Exercise
One benefit which is often overlooked is upper body exercise. Though it is strictly optional in that you can choose to just "walk" on the elliptical trainer, elliptical machines offer you the ability to replicate the full running posture, along with some strength training arising out of gripping the handles. Some of the best elliptical machines even offer the ability to customize the upper body exercise through various modifications. This allows you to exercise your upper body muscles like quadriceps and biceps. This, in turn, allows you to gain a balanced workout, which you would otherwise have to gain through a separate training regimen on another machine after working out your lower body on the treadmill.

In addition, if you want to improve your posture, the elliptical machine is equally useful. In fact, this elliptical machine benefit can be availed by standing upright on the elliptical machine without using the handles or sidebars for support. This allows you to straighten your vertebra and reduce risks of slip disc and even hernia in old age.

Great Benefits of Using an Elliptical Cross Trainer
Finally
The combination of upper and lower body workouts ensures that the lungs and heart are trained as well. This is a must for marathon runners, but even those who want to improve their overall health would want to avail this comprehensive exercise.

As can be seen from the above short explanation, the elliptical machine benefits come from the fact that the elliptical machine allows you to "run" like you normally would but prevents excessive strain. On the other hand, it allows you to customize your stride and resistance of the machine on the best elliptical machines, thus providing much-needed exercise to your upper body and certain muscles of your lower body which are often ignored by other exercise machines. Though it cannot be said that the above elliptical machine benefits will be equal for all, it can be said with some certainty that the elliptical machine will allow one to develop a decent physique and a good posture sans risks associated with treadmills or free running.